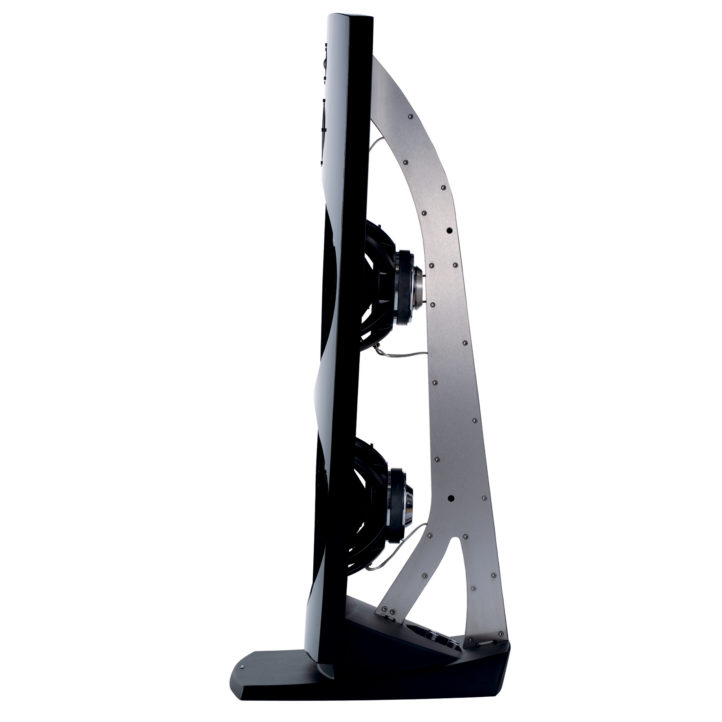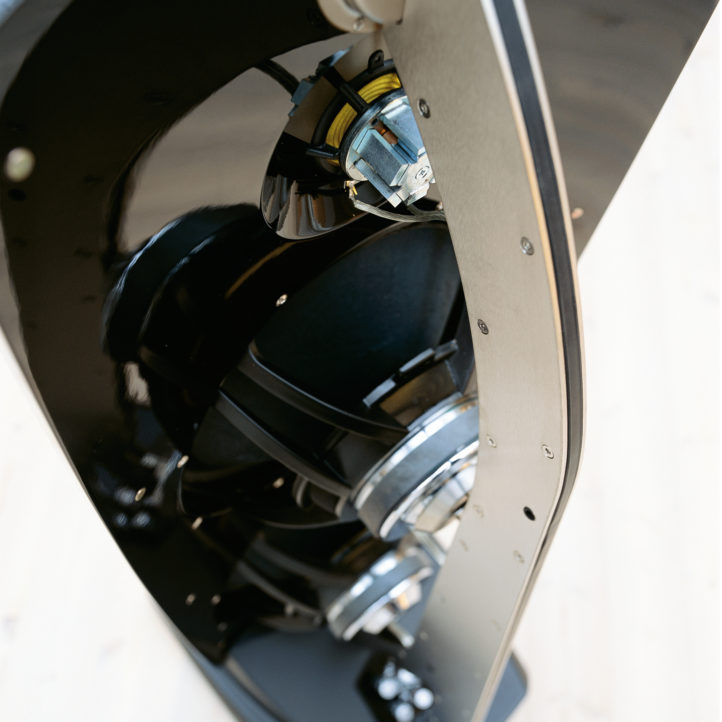 TECHNOLOGY
Dipolar loudspeakers have existed for many years; most of them have been electrostatic designs. However, electrostatic technology has one significant drawback: bass frequency reproduction is often compromised. They simply aren't able to produce the characteristic physical bass "thwack" you feel in your midriff. The Jamo Reference R 909 audio tower uses electrodynamic speakers instead of electrostatics, and the results are amazing. The exceptionally firm, deep bass and concert-like high end dynamics put you in the middle of the soundstage.
The revolutionary Jamo R 909 floor-standing dipolar loudspeaker is packed with high-performance features:
Two massive 15-inch woofers,
A Seas magnesium midrange driver
A customized Scan Speak Revelator tweeter
A beautiful high-gloss, 1.7-inch thick baffle, with unique multi-ply construction
No other high end loudspeaker sounds or looks quite like it.
The R 909 is the perfect match for the highest quality amplifiers on the market. However, with 89dB sensitivity and very stable load at 4 ohms, it doesn't need huge power to drive it'although it will handle more than 800 watts of peak power, if you choose! The open design and drivers reproduce wonderfully transparent vocals and a response so dynamic that it's hard to believe you're listening to a speaker. The exceptionally firm bass provides excellent transient speed, precision and fluidity throughout the frequency range with no coloration or reverberation. The Jamo Reference R 909 fully captures the heart of the musical experience.
DESIGN
When we set about to develop the R 909, our mission was to establish new standards for craftsmanship and performance in the high end speaker category. Our quest led us to an open dipolar principlemdash; a design that has sound from the front of the speaker mirrored by the sound coming from the back. The result was an award-winning speaker that has garnered praise from audiophiles and sound professionals the world over.
Our flagship Jamo Reference R 909 audio speaker not only offers a truly lifelike listening experience, it reflects Danish design at its best. With its unique open back and black finish, this is one speaker that is as much a feast for the eyes as for the ears. The open design also allows you to see the quality components that make the Jamo R 909 so remarkable: two massive 15-inch woofers, the Hard Conical Cone midrange driver and the premium textile dome tweeter. From deep, precise bass to startlingly concert-like vocals, we've spared no expense to deliver sound in its purest form.
This remarkable floor-standing loudspeaker is not designed for everyone; it's for those who demand true high end audio performance as well as the ultimate in stylish, contemporary appearance. The Jamo R 909 has been created for the increasing number of people who prefer a two-channel solution for music and a separate surround sound system for those times when they want to watch a movie.
SPECIFICATIONS
| | | |
| --- | --- | --- |
| Product dimensions (mm/in, HxWxD) | | 1276 x 488 x 541 / 50.2 x 19.2 x 21.3 |
| Midrange (mm/in) | | 140 / 5½ |
| Woofer (mm/in) | | 2 x 380 / 15 |
| Tweeter (mm/in) | | 25 / 1 |
| System Type | | 3-way dipole |
| Frequency Response (Hz, +/-3dB) | | 35Hz-30kHz |
| Impedance | | 4 |
| Power Handling (Watts Long/Short Term) | | 550 / 800 |
| Weight (Kg/lb) | | 63.1 / 139.1 |
| Sensitivity (dB, 2.8V/1m) | | 89 |